President Akufo-Addo has commended the Bank of Ghana (BoG) and the Ghana Stock Exchange (GSE) for their sterling performance over the last couple of years.
He said their outputs had led to the growth and development of the economy.
The President paid a working visit to the two state institutions yesterday to know from them the impact of the coronavirus (Covid-19) pandemic on the economy.
His first port of call was the BoG head office on the High Street, Accra, where he was met on arrival by the Governor, Dr. Ernest Addison and his team.
"I felt that there were two or three critical matters that had occurred in recent times which required a special gesture on the part of the President. The first of course is the sterling role that the central bank was playing in supporting the economic policies in the last three and a half years of my government. I think that the measures that have been taken, the soundness of the measures and your own personal commitment to ensuring a stable macro-economic and generally clear business environment for our country have been extremely useful in supporting the work of the Ministry of Finance, and of course, ultimately the work of my government. So I wanted an opportunity to come and use your own premise to express my appreciation," the President said.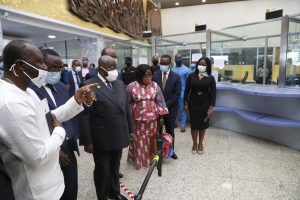 He also commended the central bank for their role in the heat of the Covid-19 outbreak.
"These last six difficult months that our country and the world have gone through during the Covid-19, the support that the BoG has given to government, to the economy and to businesses, has been an outstanding feature of your stewardship of the bank, and it has made it possible that despite the difficulties and the major disruptions and dislocations that the national economy has endured as a result of Covid-19," he said.
The President then moved to the Cedi House where the GSE is located and was received by its Managing Director, Ekow Afedzi and his team.
"I think a strong stock exchange, a robust stock exchange is usually a very good mirror and reflection of a strong market economy," the President said there, adding "whatever that can be done to strengthen an exchange is inevitably tied up to what you can do to strengthen your economy."
The President said "if indeed the stock exchange is a critical instrument for growing a country's economy and thereby growing the possibility of a people more and more prosperous, I think it is important for those of us who have to make decisions affecting the economy to have a clearer idea of what is going on here and that is the main reason why I came here; to find out the impact of the Covid-19 pandemic on your activities, where you are in terms of growing the exchange and what obviously government on its part can do to assist the process of getting Ghana a really strong stock exchange."
Daily Guide